Details
45x60x7mm Viton Rotary Shaft Oil Seal R21/SC Single Lipped

with Stainless Steel Spring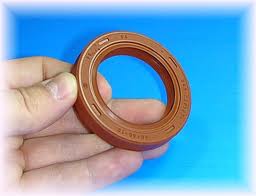 INTERNAL DIAMETER 45mm
OUTSIDE DIAMETER 60mm
WIDTH/DEPTH 7mm
Viton Seals are Brown or Black in Colour
and come with a Stainless Steel Garter Spring.
They have a Chemical and Heat Resistance upto 200 Degrees Celsius
and higher for shorter periods of time.
Going the other way they can operate at -30
With their resistance to common salt,
it makes them an ideal choice for marine applications
High Heat resistance

Automotive and Agricultural

Chemical

Fuel and Lubrication
If you don't see the oil seal that you need please email us.
We have thousands in stock ready to ship